Sustainability
When you shop at Savages you will know how much we care about our part in looking after our environment, from using to selling sustainable, environmentally friendly products. We continue to review and research the best eco-friendly products and bring to you the opportunity to share in our 'green' values. We hope you like reading about some of the initiatives we have introduced in our business.
We use paper bags for loose produce in the farm shop, and once your shop is done your items can be put into carrier bags made from 100% recycled plastic or even reuse our carboard boxes. We also have reusable Savages bags available for purchase.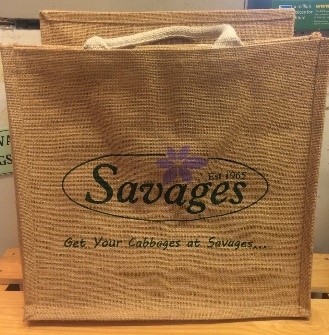 We also encourage our customers to re-use plant pots and trays and provide the opportunity for customers to bring their old unwanted pots and trays for reuse. As well as this, we have increased our capacity for recycling by installing larger recycling bins for all our plastic, aluminum, cardboard, and paper waste.
We are using till & credit card rolls that are BPA free in association with Trees for Life - helping to achieve the goal of planting 2025 trees by the year 2025 to help restore the Caledonian Forest and all its constituent special of flora and fauna.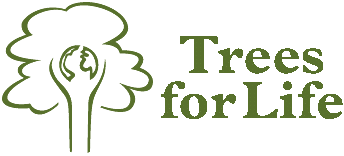 We always try to buy smart when it comes to our cleaning products and office supplies, opting for eco products whenever possible.
We are constantly working to minimize any food waste, by offering produce trimmings as animal feed free of charge. We are also working with food waste apps to give away products unsuitable for sale.
In our gift shop we stock greetings cards with sustainable packing and for some products no packaging at all! Other products such as our napkins also come with sustainably sourced packaging.
We strive to work with many local suppliers (see more details on our website www.savagesblewbury.co.uk) providing our customers with quality local produce with minimal transport helping to reduce our carbon footprint.
Products
We offer a range of environmentally friendly products and accessories throughout our shop:
Veggio Washable Fruit & Veg Bags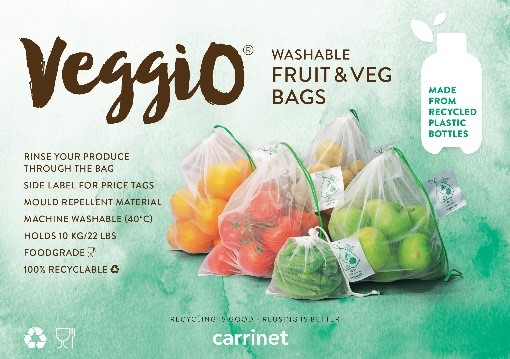 Made from 100% recycled plastic bottles, Veggio bags are both reusable and machine washable, quick to dry and do not attract mould or bacteria – keeps produce fresher for longer. Available in a pack of 3 sizes that are lightweight, durable, strong and by using them you are doing your bit to contribute to the reduction of single use plastics! Use it alongside our reusable Savage bag to help play your part in reducing the worlds carbon footprint.
Beeswax Wraps
(the natural alternative to Cling Film)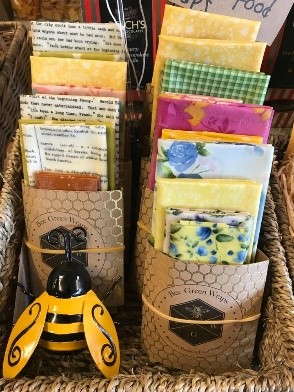 Did you know these wraps are reusable and each one lasts around a year? They are washable and simply need rinsing in cold or tepid water. They are very pliable and easily fit around anything and are thick enough to work effectively. Not only are they water-resistant but are also strong and resilient and do not tear easily. Made of 100% natural organic ingredients of Beeswax, Jojoba Oil, Dammar tree resin and organic cotton. When it is time to renew it can be recycled or put on your compost heap!
There really is an alternative to cling film after all why not give it a try and let us know what you think?
Beebombs – Save the Bees!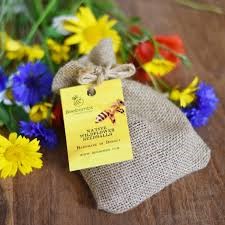 Did you know 97% of native British Wildflower habitat has been lost since World War 2 the essential place where bees and butterflies live?
The seed balls are made from sheltering local clay and sifted compost, packed with a range of native wildflower species' seeds.
Almost all the seeds are on the RHS 'Perfect for Pollinators' list ensuring you get an aesthetically beautiful and wildlife enticing garden from your Beebombs. Beebombs need no gardening skill and can be scattered straight onto open ground at any time of the year.
Once scattered, Beebombs just need lots of water, sun and time. Wildflowers are hardy and adaptable but slow growers, (planting straight onto soil is best if possible). The soil will help your Beebombs germinate and the clay will protect them as they dissipate. Wildflowers grow more slowly than many imported plant and flowers. Some will flower in the 1st year but most will not come out until the 2nd year. Help produce a wildflower meadow attracting a range of British pollinators.
Refills
Our new refill station is our latest step in reducing plastic and waste, offering customers the opportunity to top up their containers and purchase exactly what they desire. As well as our gravity bins, we also have a selection of ecover refill liquids.
Eco Bouquets
Here at Savages, we are proud that our highly skilled Florists work using materials that are biodegradable, compostable, and recyclable.
Our selection of floral arrangements can be ordered in store as well as online at https://www.savagesblewbury.co.uk/shop-online.htm
Something before you go …
The Future… lowering our Carbon Footprint
As you can see, here at Savages we are committed to playing our part in reducing our carbon footprint, by bringing these eco products and initiatives to our valued customers. We are continuing with our quest to bring further exciting additions in the future…watch this space! Just ask about them in the shop when you next visit.
We look forward to seeing you again soon!